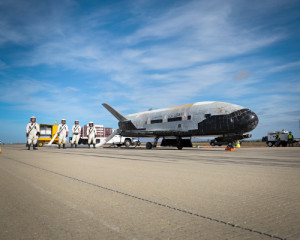 On May 20, an advanced NASA materials science experiment will be carried as a payload on board the U.S. Air Force X-37B winged reusable spaceplane. The X-37B is set for its fourth Atlas-V launch from Cape Canaveral.
The Materials Exposure and Technology Innovation in Space (METIS) project is planned to remain in space for at least 200 days. By flying the METIS investigation on the X-37B, materials scientists will have the opportunity to expose nearly 100 different materials samples to the space environment, including some that flew earlier outside the ISS.
"By exposing materials to space and returning the samples to Earth, we gain valuable data about how the materials hold up in the environment in which they will have to operate," said Miria Finckenor, the co-investigator on the MISSE experiment and principal investigator for METIS at NASA's Marshall Space Flight Center in Huntsville, Ala.
Read the entire article here.