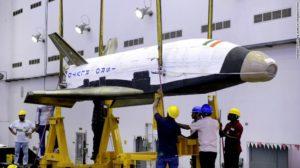 In the early hours of Monday morning, the Indian Space Research Organization (ISRO) successfully launched its first "Re-usable Launch Vehicle," which at full-size will be able to lift satellites into orbit.
"We are very excited," said Deviprasad Karnika, a spokesman for ISRO. "The team has been working on the project for the past 10 years, with the past five spent on designing the actual model."
Read the full story at CNN.